CASE STUDY:
Vincenzo's Italian Restaurant Order
Management App
Case Study: Restaurant Order Management App
Digitizing restaurant operations and interactions to take advantage of a "mobile" economy and boost customer loyalty.
CHALLENGE
There were no problems, there were only opportunities and expectations. During the global pandemic, the need for easy food ordering, pickup, and delivery services became critical. The main idea was to answer the leverage technology to retain customers and reinforce greater trust in the brand while enhancing brand image, build loyalty, and create a centralized hub for separate Vincenzo's Italian Restaurant locations on a new, interactive platform.
SOLUTION
Increased brand loyalty by integrating all the ordering and booking gateways. Created a one-stop application for both web and mobile versions, which delivered a seamless user experience matching the service and food quality Vincenzo's is known for. Introduced customer loyalty points, customized dining experiences, membership models and more, all enabled via the new tech platforms. During the pandemic, the world began living online more than ever and the modern mobile application that was created served as a great way to introduce more people to the brand and keep them as loyal customers.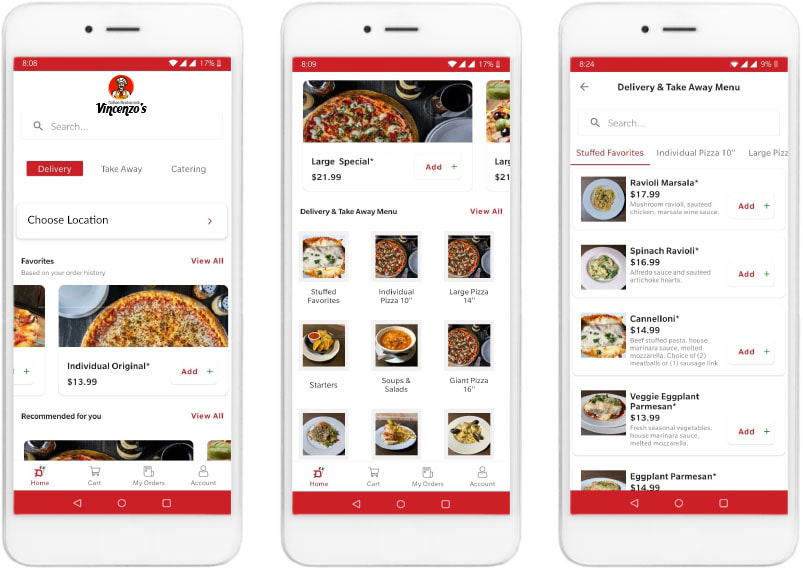 Vincenzo's Italian Restaurant needed a modernized app that delivered improved user experience and measured up to the food and service standards the restaurant was known for.
RESULTS
As predicted – the restaurants saw an increase in sales and profits. Increase in repeat customers was a clear indication of increased loyalty.
ASL better than the national average for restaurant apps meant that customers were seeing what they wished for – their favorite dishes, easy reservation processes, customized experiences, points, memberships etc.
Structured data enabled quicker analysis and thus cost-cutting and improving efficiencies.
Vincenzo's has its next goal set too – helping future locations deliver similar experiences.
Connect
with Prakat

.


Prakat has played an integral role in helping to get our restaurants up to speed with modern technology. They developed and helped design a user-friendly mobile app for one of our restaurants. We plan on working with them to develop similar apps for our other restaurants
– FRANK STANYK
Operations Manager,
Vincenzo's Italian Restaurant
Connect
with Prakat

.


Prakat has played an integral role in helping to get our restaurants up to speed with modern technology. They developed and helped design a user-friendly mobile app for one of our restaurants. We plan on working with them to develop similar apps for our other restaurants
– Frank Busic
Operations Manager,
Grand Restaurant Group