Prakat Employee Spotlight Series
Memorable Beginnings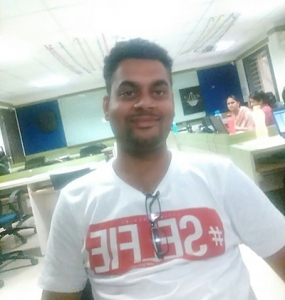 Twelve years ago and right out of university, I started my career as a fresher at Prakat Solutions. Time has flown since, and I have formed many memories, bonds, and learnings. My journey in computer applications began in Madanapalle, a city in Andhra Pradesh. When I was younger, I remember seeing many people working on computers and was inspired to work on something similar. I realized it was a fascinating field and began learning about data-related languages. I went on to pursue a Master's in Computer Applications to stay current in the IT industry. I remember joining Prakat at the beginning of my career which was also the first year of the young budding startup.
Initially, the company had a team of just over 30 people. The business had just begun growing, and many of us needed to be on active projects. At that point, ownership was on each of us. We started from scratch, assembling machines and creating solutions. If something broke or was not working, we would figure out how to run it independently and be responsible for the process. If we found a problem, each of us had the drive to use the resources and knowledge we had acquired to come to a solution as a team. We got to be a part of, and learn from, every step of the journey.
Since its humble beginnings twelve years ago, the company has grown in many ways. We are now established in the market and can explore a wide range of technologies and areas. Initially, each member of the Prakat family used to do a lot of research and create proof of concepts to convince the world that we could implement the right solutions. The team worked day and night to ensure we had the skills and capabilities to execute the solutions we committed to. Prakat, as a company, had to prove itself, and each of us got to prove ourselves through this journey.
Cheers to Many Firsts
I remember the first project we worked on. We had one team member who was the on-site coordinator. The rest of us worked from the Prakat office, coordinating multiple areas like manual and automated testing. From the beginning, I was exposed to various projects and tasks. I remember working on generating reports and test cases for multiple projects in parallel. These experiences helped me learn to multi-task and focus on numerous aspects of a tech organization. I may never have picked up these skills in a multinational or large corporation.
Because I was just a fresher at the time, I had a lot of seniors to reach out to for knowledge and learning. They were very supportive and smoothly helped me rectify my errors. With guidance, I learned to simplify my code and make it more robust to meet each requirement. Each senior coworker played the important role of mentor and guided my teammates and myself in the right direction without spoon feeding us the answers. When I was stuck, I reached out to my peers and got help from people with more experience. I still needed to gain hands-on experience in testing at that point. With the support system at Prakat, I slowly began understanding the software development cycle and the various processes surrounding it.
I remember the first time I attended a client meeting – it was one of my best experiences. I felt so proud of being by my CEO as she spoke about our company to the client. I was young and saw how the CEO handled a business proposal. I had so much to learn from this opportunity.
From the start, I was allowed to interact with the client to understand the requirements and the project much more deeply. Such interactions helped me develop and grow in ways I cannot describe. Just two years into my journey (and similar to that of the company's), we began having clients that were MNCs and considerable players within the market. We were officially on a path of growth and opportunities.
Growing Together
Prakat is not just about working – it is about family. I remember the first birthday I celebrated in the office. There was a giant cake that a few of us were cutting, and I even remember getting a gift. After that, we used to have all-hands meetings with many fun activities and company updates. Those will always be fond memories for me. There is always a positive balance of fun and work. You get to interact with the whole family, sometimes even party, and have a good time doing it.
It has been a great experience being with Prakat for over a decade. This might be rare for the IT industry. I love how cooperative the management is. From the start, Anu, Abhik, and other senior leaders always gave employees numerous opportunities to grow. They put the ball in your court, and it was up to you to decide what to do with it. Prakat gave me a chance to become a team lead and start managing teams as well.
You must constantly update yourself with this industry's new tools, skills, and technologies. Every project and requirement is a unique learning ground. For example, at one point, the Selenium Web driver was hitting the market, and we had to migrate about 2,400 test cases; it was a huge challenge and our team was able to design a framework to make this a reality. This step-by-step framework was even replicable for other projects. Prakat, as a company, proved that even though it had just started, it could work on new upcoming technologies. And, being here was a massive motivation as it made me believe I could learn and do anything at Prakat.
As the company grew, I began working at client locations on behalf of Prakat. The structure was a little different as you had ownership of a specific area. Here, our responsibility to hold up our company's name and show our capabilities increased. We devised other solutions and ideas for the clients; they would reject some and like some. When we recognized problems for the client, we had opportunities to research and find a viable solution. As a contractor, we took the initiative to reduce the crash rate of a client from 4% – 0.5%. Such initiatives ultimately boost the industry and the company.
Forging Ahead
For the last twelve years, I have consistently wanted to contribute to the growth of Prakat. I want to see the company go global and make a positive impact. In order to make this happen, each team member has to do something big. Working for Prakat for this long has created an attachment and kind fondness for me. Now, it feels like I am working for something that is truly a part of me. The continuity and bonds I have created at Prakat have made my personal experience something special and undefinable. It takes time for any deep connection and understanding to form; the same applies to your work life. At that point, you begin to understand the depths of the company and all the individuals that play a part in it. Realizing every individual's strengths and positive traits can help build magnificent tools and solutions for the future market.
Along the way, I have discovered skills and abilities that I didn't know existed. All this and more has given me an incredible decade of growing with Prakat. I thank everyone who helped and guided me from my very first milestones. I have had the most amazing opportunities, met the most beautiful people, and always had the support I needed on my good and bad days. I want to see Prakat become a massive player in the global market, and I believe that my career here will last extremely long and possibly even until I choose to retire.