Discover how Prakat is maintaining compliance with their HIPAA compliance program
With the growing need for data privacy, especially when it comes to sensitive, personal information like medical history and records, companies are under increasing pressure to maintain regulatory compliance. For example, companies handling medical data within the United States must adhere to the Health Insurance Portability and Accountability Act (HIPAA), per the U.S. Department of Health and Human Services (HHS).
The HIPAA Privacy Rule helps ensure that patients maintain control over their health information by setting boundaries on the use and release of health records, as well as establishing appropriate safeguards that healthcare providers and others must achieve to protect the privacy of their patient's health information.
It's important to recognize that HIPAA compliance isn't limited to healthcare organizations. There are many reasons why healthcare organizations in the US are working with tech companies that are also HIPAA-compliant to maximize their products and services.
Below, we've listed 7 benefits to working with HIPAA-compliant tech organizations.
Increase in trust: Patients can trust their healthcare organization more when they understand that all the service providers including IT vendors are HIPAA compliant.
Data Security: Rest easy knowing all healthcare-related data is protected for both the healthcare provider and the patient.
Compliance: Supports your compliance and legal requirements by adhering to the guidelines provided by HIPAA.
Patient Wellbeing: Ensures the system with patient data is protected at all times—including when it is accessed or stored.
Risk Management: Better overall risk management for healthcare providers with a HIPPA backend design of your system.
Automation: Reduce and minimize human error by automating processes and tracking the flow of information at all stages.
Leveraging Future Technology: A HIPAA compliant tech-organization will help integrate current methods of secure data management.
So, how is Prakat adhering to HIPAA?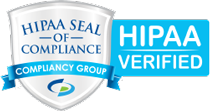 As Prakat works with multiple healthcare clients, we are required to be HIPAA compliant. We have implemented a HIPAA compliance program to address HIPAA standards.
Administrative safeguards: We ensure that PHI is used and disclosed in a HIPAA compliant manner. HIPAA requires organizations to adhere to the minimum necessary standard. The minimum necessary standard dictates that organizations use and disclose only the minimum necessary PHI to complete a job function.
Technical safeguards: We have implemented security measures such as firewalls, data backup, and disaster recovery.
Self-audits: We conduct five HIPAA self-audits annually. Self-audits assess the organization's safeguards to ensure that they are adequately protecting PHI.
Gap identification and remediation: Conducting the self-audits allows for gaps in safeguards to be identified. Based on that, Prakat takes up remediation efforts to address the gaps.
Policies and procedures: We enforce policies and procedures that apply directly to your business operations to ensure proper uses and disclosure of PHI.
Employee training: Our employees are trained annually on the organization's policies and procedures. Additionally, they are trained annually on HIPAA standards.
Business associate agreements: We sign a business associate agreement (BAA) with all of our healthcare clients. A BAA dictates the safeguards that are required to be in place. A BAA also limits the liability of each signing party, as each party agrees to be HIPAA compliant, and each is responsible for monitoring and maintaining their own compliance.
Incident management: As a part of the HIPAA regulation, we will report any data breach incidents.
Security requirements: Our teams follow specific security requirements to ensure that the software developed adheres to HIPAA requirements. Strong user authentication ensures that users are who they appear to be and prevents unauthorized access. Our teams use multiple authentication schemes such as a username and password, in combination with security questions, one-time PIN, or biometrics. Role-based access control ensures that each authenticated user is granted access to only the PHI they need to perform their job roles.
To learn more about the benefits Prakat can offer you as a HIPAA-compliant technology company, click here.