Today a number of global communications and media companies rely on Oracle Communications Billing & Revenue Management (OBRM) to optimize revenue realization and customer satisfaction. Prakat has assisted a number of companies with OBRM implementation and ongoing operations.
Overview
Oracle Billing and Revenue Management (OBRM) is a proven, standards based, trustworthy contemporary monetization solution for digital services. OBRM provides converged, real-time charging as part of its end-to-end revenue management solution. The latest OBRM release (R12, PS3) is designed in such a way that it caters to 5G enabled business models.
BRM is a future ready solution aligned with service-based architecture supporting any service, industry and partner enabled business model for communications, media, cloud and digital goods and services markets.
OBRM cloud native deployment option gives flexibility to adhere to 'best of breed' DevOps practice which significantly reduces costs, improves regulatory and audit compliance, and accelerates innovation. The cloud native deployment option takes advantage of industry accepted cloud native technologies like Docker for the runtime container, Kubernetes for container orchestration, Helm for packing and deployment and the EFK stack which comprises of ElasticSearch, Fluentd and Kibana for logging.
Deploying BRM in cloud native environment

Business benefits with Oracle BRM latest release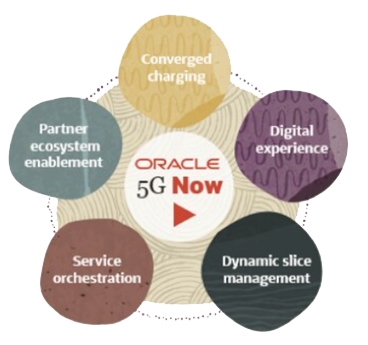 Key Business benefits with latest BRM release
Solution designed with 5G future in mind
Faster Innovation
Agility and Speed
Better customer experience
Minimized cost
Efficiently manage entire revenue lifecycle
Solution designed with 5G future in mind
OBRM enables online charging to any service, network, device and geography. It provides real-time rating for any event, subscription and data session with dynamic quota reservations and real-time threshold notifications. Complex account hierarchies (paying and non-paying) are supported for any B2C, B2B, B2B2X models, with effective partner management. It also allows for service providers to settle the revenues amongst partners efficiently for various business models like wholesale, resale, revenue sharing and to create value through consumption-based models for connected things and network slicing.
Faster Innovation with BRM
BRM provides a certified conformance TM forum SID model web-based tool – Pricing Design Center, to configure/create granular rules-based plans, pricing offer, discounts and promotions in minutes. It supports both Web services and REST APIs which can be easily integrated with external platforms like ERP, order management, customer experience and notification platforms.
Agility and Speed
In the 5G world, business and IT agility is the most important attribute for any CSPs. Service providers who choose OBRM 12 have the benefits of end-to-end automation and a omnichannel approach to data, which in turn translates to simpler workflows, greater adaptability and faster time to market.
Better customer experience
To have a positive customer experience, accurate data must be made available across all customer interaction points. To achieve this, unifying "front office" features like self-care, real-time balance notifications, billing and payment history are made available to customers/end users. In current scenario customers expect personalized omnichannel experiences that are predicated on harmony of the underlying IT systems and data that OBRM provides.
Minimized cost
If a legacy license based on-premise system was used for handling billing, then every new feature addition would involve a long and expensive integration process that runs into months. This will increase the total cost of ownership considerably over the lifetime of the software. The latest version of OBRM comes with pre-integration SDKs which will help implementers to shift their focus from CAPEX to OPEX. Using the SDKs one can focus on integrating various pieces in the system rather than spending time and money for implementing and then combining.
Efficiently manage entire revenue lifecycle
The Latest OBRM release provides integrated billing, invoicing and end revenue management to support any business model with low OPEX.
TM Forum certified web tool is provided to rapidly design and deploy simple or complex offers and promotions, Industry standard Open API, data model and Integration framework is supported.
Complex revenue recognition scenarios like recurring subscriptions and one-off purchases with flexible contract management is supported
Single unified solution for B2C, B2B and B2B2X, Partner settlement across complex multi-party value chains
Comprehensive management of collection, account receivables, taxation and general ledger integration
Comes with pre-configured and customizable reports including analysis of usage, subscriptions, customer behavior, revenue assurance and G/L
Conclusion
Oracle Communications Billing and Revenue Management is a modern monetization solution that provides real time converged charging for any business model. Historically, it has been available in both on-premise and cloud native deployment option, supporting a Kubernetes orchestrated containerized multi-service architecture to facilitate continuous integration / continuous delivery and DevOps practices.
BRM cloud native has the option of being deployed in public or private cloud infrastructure environments that provide standard cloud native tooling and can support the Oracle database. BRM cloud native can enable service providers to design, test and deploy services faster, improve operational savings and scale with the business.
U.S. and India-based Prakat Solutions, Inc. ("Prakat", a division of Dalrada Financial Corp. (OTCQB: DFCO)) is a premier OBRM service provider. Prakat's extensive knowledge of OBRM deployments across multiple domains makes the Company a preferred service provider for increasing customer satisfaction, an added benefit to the vital function of revenue generation. Prakat does this with seamless deployment and management of their clients' Billing & Revenue Management-enabled environments.
Leading Prakat's Enterprise Solutions and Services division including Billing & Revenue Management (BRM) is Harvey Hershkowitz. Harvey holds more than three decades of past executive and technical experience at Oracle as a Director of Professional Services there, he guided product development teams globally and established regional delivery centers. Harvey's industry knowledge of Oracle aids Prakat's clients as the global business environment shifts to online real-time models. Based out of Prakat's global headquarters in San Diego, California, Harvey's expertise in Oracle's products integrates with Prakat's core professional service offerings for tailoring real-time revenue generation platforms for clients of any size.
Also, on Prakat's OBRM leadership team is Dallas Fort Worth-based Dave Ramzy. Dave is a former North American Oracle Insight Program Director and Enterprise Architect. Dave's experience with high financial & operational impact Enterprise Resource Planning (ERP), Customer Relationship Management (CRM), and Configure, Price, Quote (CPQ) implementations adhere to strict information security practices for all of Prakat's clients. As a cohesive global team, Prakat is driving a robust worldwide BRM practice.